Guiding the Course of Higher Education in Nevada

Much like a corporate board of directors, Nevada's Board of Regents governs the Nevada System of Higher Education (NSHE). Elected to serve a six-year term, the 13 Regents set policies and approve budgets for Nevada's entire public system of higher education: four community colleges, one state college, two universities and one research institute.
The eight institutions the Regents govern include: College of Southern Nevada; Desert Research Institute; Great Basin College; Nevada State College; Truckee Meadows Community College; University of Nevada, Las Vegas; University of Nevada, Reno; and Western Nevada College.
NSHE provides educational opportunities to more than 106,000 students.
The Board leadership is comprised of a Chair and Vice Chair who are elected by the Board's membership. The term for the Chair and Vice Chair is one year (January 1 – December 31), and the Chair is limited from serving more than two consecutive terms.
Board of Regents Quarterly Meeting
University of Nevada, Las Vegas
December 12
Board of Regents Special Meeting
System Administration
December 12
ad hoc Committee to Review the Policies Governing a Search for Chancellor
System Administration
January 17
Inclusion, Diversity, Equity and Access Committee Meeting
System Administration
January 19
Board of Regents Special Meeting
System Administration
Representing Your District

The great and diverse state of Nevada is home to major cities, tribal lands, rural communities, and some absolutley stunning natural beauty. Wherever you call home in Nevada, you've got a regent representing you in making policy decisions that impact our higher education system, our workforce, and our economy.
Regents are elected to represent their disctrict for a six year term. NSHE Board of Regents elections may be held in your district during major election years, and in midterm election years.
The Best of Nevada

The Distinguished Nevadan represents the most prestigious award conferred by the Board of Regents. It is bestowed upon prominent individuals who have made significant achievements that have contributed to the cultural, economic, scientific or social advancement of Nevada and its people; or for exceptional service to the state or nation that has influenced constructively the well-being of humankind.
Learn More
About the Board of Regents' Distinguished Nevadans
2023 Award Recipients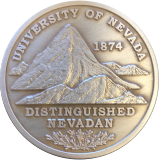 Hon. Peter I. Breen
Anthony "Nino" Galloway
Hon. James W. Hardesty
Dr. Susan Desmond-Hellmann
Astrid Silva