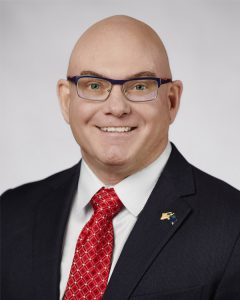 Clark County
Tenure
2021 - Present
Regent Byron Brooks was elected in November 2020 to serve on the Board of Regents as the representative for District 3.
He currently serves as Chair of the Board.
Regent Brooks is a U.S. Army combat veteran and Las Vegas native. After his military service and collegiate studies, he was recruited to work for the Department of Defense and later the U.S. Department of State in support of multiple high threat government operations overseas. Byron's experience included logistical management and training of personnel for multimillion-dollar government projects in remote, conflict zone locations across the globe.
Byron is currently serving his seventh year as a mentor for the Veteran's Treatment Court Program, is a board of trustee at Congregation Ner Tamid, an instructor with the Nevada Coalition for Suicide Prevention and founder of the Nevada Veteran's Alliance. Previously, he served for three years on the Las Vegas Metropolitan Police Department's use of Force Board.
Byron is married to Heather Brooks and they have one child named Blake. Byron and Heather have taken it upon themselves to display leadership in their community regarding education. Byron served for three elected terms on the Twitchell Elementary School Organizational Team while Heather previously served as the Vice President and after, two elected terms as the President of the Parent Teacher Association (PTA) for Twitchell.
Byron operates a Management Service Organization (MSO) designed to support physicians and health care providers with the non-clinical, administrative part of their medical practice. Additionally, he continues to partner with local Veterans in order to help them launch business and community building ventures to bridge the gap between military experience and private sector business.
Byron has received awards and accolades as both an entrepreneur and a community advocate. He currently sits on several boards for various Veteran non-profit organizations in Nevada.