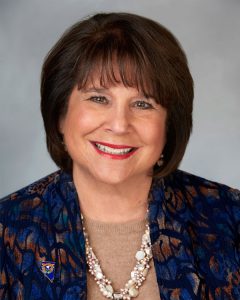 Carson City, Churchill, Douglas, Lander, Lyon, Mineral, Storey and Washoe Counties
Tenure
2017 - Present
Regent Carol Del Carlo was elected to serve on the Board of Regents in November 2016, and was retained in the 2018 general election as the representative for District 9.
She served as chair pro tempore of the Board (Nov. 2021-Feb. 2022) and one term as Board vice chair (2020-2021).
Regent Del Carlo is a native Nevadan, born and raised in Reno, whose paternal Italian immigrant ancestors settled the Truckee Meadows in 1907. On her maternal side, her Hispanic heritage traces back to an original land grant family in San Diego County. She attended Vaughn Middle School, Bishop Manogue Catholic High School and graduated from Wooster High School. Her parents were not afforded the opportunity for higher education but instilled in their daughter a great desire to pursue an education. Her intent to finish in four years was quickly interrupted when she met her future husband, native Nevadan George Del Carlo of Virginia City, at her first UNR home football game in her freshman year. She changed from a bachelor's degree program to an associate's program, married in 1972, and followed George (UNR ROTC) for the next 22 years during his military career. She continued to pursue her education while working full time and finished her bachelor's degree in 1981.
Regent Del Carlo was hired by General Motors Warehousing and Distribution Division in 1981 and began her 21-year corporate career. Once again while working full time, she attended evening classes and finished her master's degree in 1987. From 1972 until their return to Nevada in 1995, Regent Del Carlo moved 16 times including residences in Ft. Knox, KY; Mannheim, Germany; Bamberg, Germany; Flint, MI; Colorado Springs, CO; Atlanta, GA; Ft. Hood, TX; and San Diego, CA.
Since her return to Nevada, Regent Del Carlo has been actively involved in volunteering in politics and various non-profit organizations while working from her home office.
She brings a love of people, politics, Nevada and the desire to serve students to the Board of Regents.
Education
Chapman College, Orange, CA, 1987
Master's Degree in Human Resources Management
Emphasis in Organizational Development
University of Maryland, Overseas Division (Germany), 1981
Bachelor of Science in Business Administration
Minor in Business Education
Magna Cum Laude
University of Nevada, Reno, 1972
Associate of Arts in Fashion Trades
Professional Experience
Regional Consultant/Account Consultant, 2001-2016
NXGEN Payment Services – Reno, NV contracted with Sierra Pacific Federal Credit Union, past contracts with Nevada Security Bank (Umpqua Bank) and First Independent Bank of Nevada
Assistant to the President, Club Fortune Casino, Henderson, NV, 2013-2014
General Motors Service Parts Operations (GMSPO)/GM Warehousing and Distribution Division (GMWDD), 1981-2002
General Office Supervisor – Reno, NV, 1996-2002
Metro District Sales Manager – San Diego, CA, 1994-1996
District Sales Manager – Dallas, TX, 1992-1994
Sr. Labor Relations Representative – Atlanta, GA, 1990-1992
General Supervisor – Atlanta, GA, 1986-1990
Supervisor – Denver, CO – 1984-1986
Policies, Procedures and Systems Administration Writer – Flint, MI, 1983-1984
Supervisor – Reno, NV, 1982-1983
Management Trainee – Reno, NV, 1981-1982
Teacher's Assistant, Temple University/Big Bend Community College, 1977-1980
U.S. Army Basic Skills Education Program – Bamberg, Germany
Payroll Clerk, U.S. Army Civilian Pay Office – Heidelberg, Germany, 1974-1976
Department Manager, Sears Roebuck & Co. – Reno, NV, 1972-1973
Management Trainee, Sears – Reno, NV, 1972
Civic and Professional Affiliations
Member, Board of Directors, Association of Community College Trustees (ACCT)
Member, ACCT Governance and Bylaws Committee
NSHE Representative, ACCT, July 2017-present
State of Nevada Substance Abuse Working Group, July 2017-July 2019
Nevada Advisory Committee to the U.S. Commission on Civil Rights, 2014-present
Member and 2017-2018 President, American Association of University Women (AAUW), Tahoe Nevada Affiliate, 2014-present
Cochairman, Combined Service Appeal (CSA), 2012-2014
Member, Women's Club of North Tahoe (WCNT), 2011-2019 (Disbanded)
Property Owner Member, Wells Avenue Merchants and Property Owner's Association, 2010-present
Member, Nevada Republican Party Central Committee, 2007-2017
Member, Washoe County Central Committee, 2007-2017
Secretary, Nevada Republican Party, 2007-2011
Alternate Delegate, Republican National Convention, 2016 and 2012
Delegate, Republican National Convention, 2008
Team Captain and Fundraiser-Incline Village, American Cancer Society's Relay for Life, 2009 and 2007
Member and Fundraiser-Incline Village, CYMBAL, 2002-2005
Donor Chair (2005), Board Member and Show Participant, Star Follies; Raised $90,000 for Incline Village Schools, 2004-2005
Booster and Lifetime Member, University of Nevada, Reno Alumni Association, 2001-present
Classroom Volunteer and Fundraiser, Junior Achievement; Top fundraiser four years in a row, 1990, 1995-2001
Army Officer's Spouse-Led, organized and coordinated a variety of services and family support groups during peacetime and wartime, 1973-1995
Member, St. Francis of Assisi Catholic Church, 1996-present
Honors and Awards
U.S. Armor Association – Awarded the "Order of St. George" for compassion and care of soldiers' families