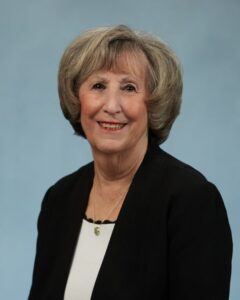 Clark County
Tenure
2023 - Present
Regent Susan Brager was elected in November 2022 to serve on the Board of Regents as the representative for District 7.
Regent Brager has lived in Las Vegas for 58 years. She and her husband have three children, 14 grandchildren, and 16 great grandchildren. Having attended elementary and middle school here, Regent Brager served as PTA President at C.H. Decker and then worked at many schools across the valley as a Special Education Aid. She also worked previously at C.H. Decker and Marion Earl Elementary as a Clerk.
Regent Brager left the school district as an employee to run for the position of CCSD Trustee. She served in that capacity for three terms. While serving, her titles included President (3 years), Vice President (3 years), and Clerk (3 years). During her tenure, the CCSD board conducted three superintendent searches and built approximately 140 campuses. After 12 years as a trustee, Regent Brager wanted to continue to serve the community and decided to run for Clark County Commissioner where she served District F, one of the fastest growing areas in Las Vegas, for three terms. Throughout her tenure, she worked as Chairman of the Commission and Vice Chair.
In 2019, Regent Brager was honored to have been chosen by the American Mothers of Clark County to be Mother of the Year. She is currently serving the community at Berkshire Hathaway Home Services as a Realtor of 32 years.
Her volunteer service has included:
Founder of Spring Valley Bobby Sox Softball
LV Global Economic Alliance
Family and Juvenile Justice Services Board Member
University Medical Center Board Member
Southern Nevada Board of Health
Southern Nevada Regional Planning Coalition
Springs Preserve Board Member
LV Convention and Visitors Authority Board Member
She currently serves on:
Southern Hills Hospital Vice Chair Board of Trustees
Seeds
ABC Education PAC
Public Education Foundation
American Mothers of Nevada Vice Chair
Gold Ribbon Committee for Northwest CSN Campus
Governors Workforce Development Board