Regents Approve Four New Programs at UNLV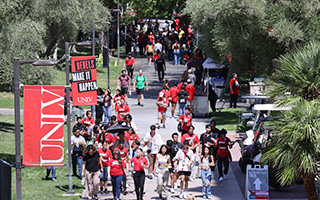 The Nevada System of Higher Education Board of Regents' Academic, Research and Student Affairs Committee approved the establishment of four new programs at the University of Nevada, Las Vegas (UNLV) aimed at providing support and improving community and state-wide issues in the areas of financial literacy, behavioral health, tourism safety and the arts.
The Institute for Financial Literacy and Wellness, BeHERE NV, and Tourist Safety Institute were set to be implemented upon approval by the Board. The College of Fine Arts Bachelor of Arts in Creative Practice is set to be made available to UNLV students in the fall 2024 semester.