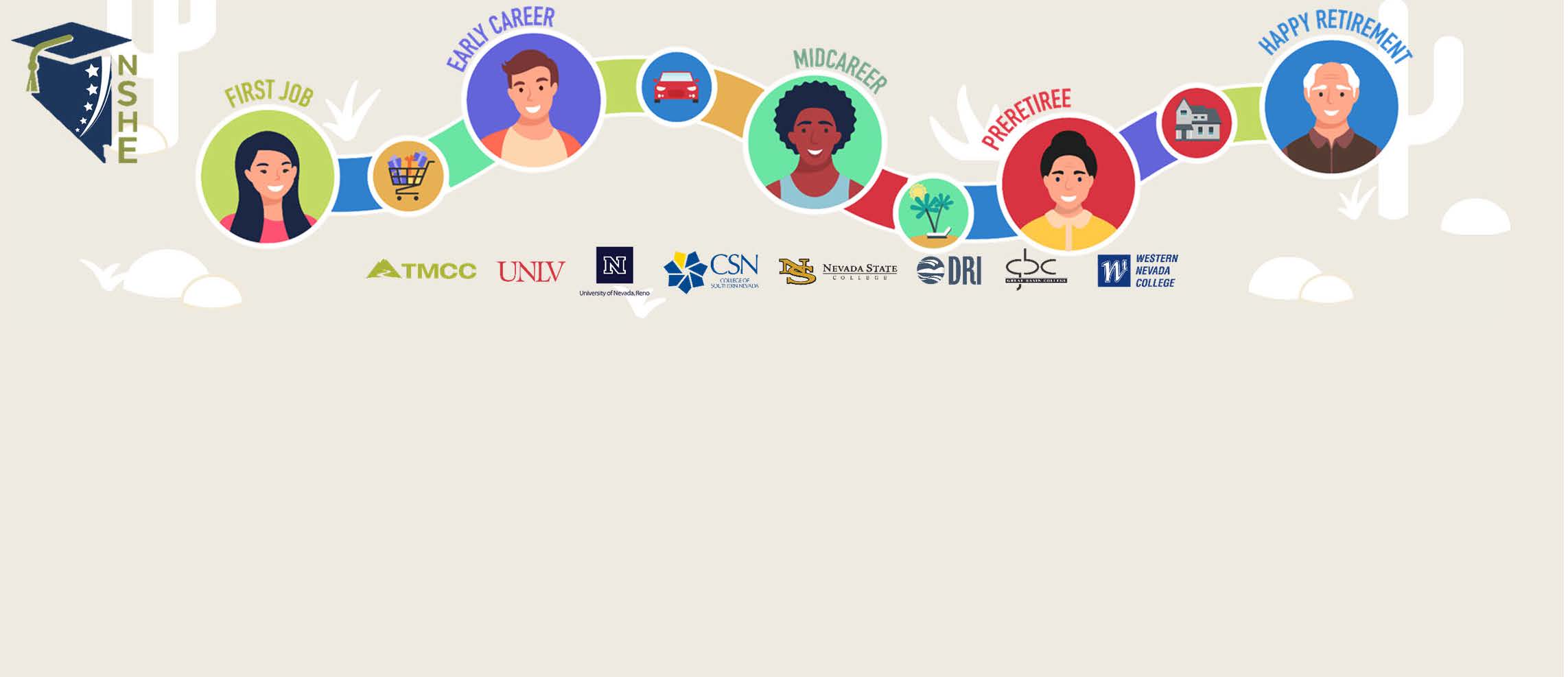 Retirement Plan Administration
A Multi-Faceted Retirement Program
As an employee of NSHE, you are fortunate to be a participant in a multi-faceted Retirement Program that gives you every chance to accumulate significant retirement wealth over time that can be the source of funds for a high quality of life after your retirement.
Guide to plan eligibility
Depending upon your employee classification and your personal financial circumstances, you may participate in more than one of these plans. Please refer to the following guide to plan eligibility.
*Participation in this plan occurs only after participants have received the maximum allowable benefit under the RPA.
Faculty and professional staff are required to participate in the RPA as a condition of employment with NSHE from the date of appointment. Medical residents and postdoctoral scholars are likewise required to participate in the Medical Resident/Postdoctoral Scholar Plan as a condition of employment with NSHE from the date of appointment.
Participation in the Supplemental 403(b) is voluntary, supplementary to participation in the mandatory plan, and cannot replace participation in the mandatory plan. You can begin, resume, change, or discontinue your contributions to the Supplemental 403(b) by accessing the Workday system.
Participation in the Excess Benefit Plan is limited to those individuals who are not able to fully participate in the mandatory plan due to IRS imposed benefit restrictions.
Managing your money and keeping track of your account is the function of the record keeper chosen by NSHE for these purposes, TIAA. TIAA hosts the NSHE investment line-up and provides the online portal participants use to enroll in the plan, view account balances, manage contributions, select investments and take action. TIAA will issue your quarterly statement, manage the beneficiaries on your retirement account and provide you with personalized retirement plan advice.
You can obtain the necessary enrollment materials from your campus benefits office. To learn more about our plans and how to enroll, visit the TIAA micro site.
Please note, prior to December 31, 2013 NSHE contracted with Fidelity, TIAA and VALIC for retirement plan record keeping. Participants enrolled any of the NSHE retirement plans prior to that date may have retirement assets at any of these companies.
NSHE provides participants with a three-tiered investment line-up that provides investment options for everyone, from the less engaged investor to the investor who prefers to more actively manage their retirement savings. The tiered structure provides a simplified investment selection process, allowing you to make your decision based on your investment expertise and comfort level.
As part of the ongoing monitoring process, the Retirement Plan Advisory Committee conducts comprehensive quarterly reviews of the investment funds available in the Retirement Program. Detailed information about Retirement Program investment offerings, including detailed investment performance results are available on our Investments page
The Retirement Plan Advisory Committee is tasked with advising the Chancellor's delegated authority on matters related to plan policy and administration. Information about the Committee, including membership, meeting schedule and past meeting minutes are available on our Retirement Plan Advisory Committee page.
Retirement Plan Administration Contacts
David Montes
Retirement Plan Coordinator
Seresa Greer
Benefits Specialist Business Center North, UNR Human Resources
Michelle Kelley
Director, Retirement Plan Administration
Julie Konkol
Director, Benefits and HR Operations Business Center South, UNLV Human Resources