NSHE System Computing Services Helping Bridge Nevada's Digital Divide by Expanding eduroam to Nevada K-12 Schools and Community Centers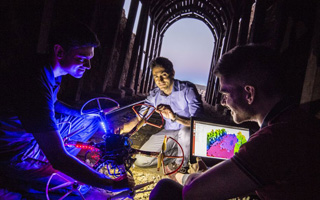 System Computing Services (SCS), NSHE's shared digital services division, announces a new initiative to expand seamless wireless access to the internet in Nevada's K-12 schools, libraries, municipalities, and other community centers.
Students, faculty, and researchers affiliated with NSHE institutions already enjoy wireless internet access that is secure and easy to use when visiting other NSHE institutions, and more than 33,000 locations around the world. This is done via eduroam, the secure wireless access service built by and for the global education and research community. SCS recently became Nevada's eduroam Support Organization, participating in the program that is managed by U.S. eduroam operator Internet2. SCS joins an energized, innovative, and highly collaborative community of eduroam Support Organizations in expanding the availability of eduroam beyond the walls of higher education in their regions.
SCS will soon work with Nevada K-12 school district officials to bring eduroam's secure and easy to use wireless access to a number of pilot schools. K-12 students, teachers, and staff will benefit from the convenience of roaming between facilities at their school district, NSHE campuses, and other eduroam service providers without searching for a trustworthy wi-fi network.
After the pilot period, SCS will extend support for the eduroam service to all eligible K-12 and community organizations in Nevada, with a goal of making eduroam available at all public schools in Nevada. "Bridging the digital divide in Nevada is an important part of our mission at System Computing Services," said Anne Milkovich, chief information officer for the Nevada System of Higher Education. "We are excited to bring eduroam to Nevada K-12 schools and other community partners, especially in our underserved communities."
In addition to supporting the eduroam expansion at K-12 schools in Nevada, SCS is working to identify libraries, museums, and municipal partners who can add eduroam to the guest wireless options at their facilities to better serve their communities.
As SCS partners with more organizations in Nevada to provide the eduroam service, the entire K-20 community in Nevada will benefit from expanded access to their digital learning and research tools from an increasing number of places they roam and dwell. This will contribute to building a more technologically literate Nevada workforce and expanding Nevadans' access to the digital economy – also making Nevada a more attractive place to visit or live for educators, researchers, and scholars from other states and nations.
In tandem with the eduroam expansion, SCS is identifying opportunities to improve bandwidth at community anchor organizations in Nevada through the statewide NevadaNet network. The State of Nevada is investing more than $150 million of federal grant funds and matching funds into two middle mile projects. The projects span over 950 linear miles of new fiber builds. This new fiber will benefit rural schools, libraries, healthcare providers, public safety, government, community centers, and other state or public facilities.

Learn more
To learn more about the eduroam service, or to express your interest in supporting Nevada's K-20 community by offering the eduroam wireless signal at your organization, visit https://scs.nevada.edu/eduroam or contact support@nshe.nevada.edu.
To learn more about the ongoing efforts of the US eduroam Support Organization community and Internet2, please visit https://internet2.edu/eduroam-support-organization-status-report/