Research Investment Continues at UNLV and UNR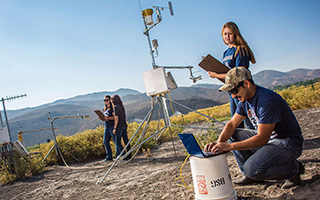 The University of Nevada, Las Vegas (UNLV) and the University of Nevada, Reno (UNR) continue to maximize the positive economic and cultural impacts as two of the top research universities in the nation.
Both institutions received the prestigious "R1" classification in 2018 and 2021 from the Carnegie Foundation for the Advancement of Teaching.
Edmund Synakowski, UNLV vice president for research,and Mridul Gautam, UNR vice president for research and innovation, presented an update to the Board of Regents on each institution's ongoing investment toward maintaining and enhancing the elite Carnegie designation.
"This presentation showed that Nevada's two public universities remain in an exclusive group of Carnegie R1 institutions across the country," said Dr. Jason Geddes, chair of the Board of Regents' Academic, Research and Student Affairs Committee. "From each university's inception, they have been on a fast track to this historic milestone. The R1 designation is a testament to their outstanding faculty, dedicated leadership, and the large community of supporters."
According to Synakowski and Gautam, one of the key Carnegie metrics is Ph.D. student enrollment, and both institutions are committed to both growing enrollment and enhancing support for graduate students.
Doctoral students are the entry point to the research talent pipeline and the state's diverse workforce. Since 2015, UNLV has increased Ph.D. enrollment from 953 students to 1,254 by fall semester 2021. Over the same period, UNR went from 796 students to 1,120.
By 2025, UNLV has a goal of enrolling 1,487 Ph.D. students and UNR 1,469. On Thursday, UNLV was also named a founding member of the Alliance of Hispanic Serving Research Universities. The coalition of the nation's largest Hispanic serving universities includes as a goal to double the number of Hispanic doctoral students enrolled by 2030.
On the other side of the research talent pipeline are doctorates and post-doctorates ("postdocs") who enhance the local workforce and attract new businesses to the state.
Over the past seven years, each university has dramatically increased the number of research doctorates it produces. UNLV increased from 149 doctorates in 2015 to 180 in 2021, while UNR jumped from 109 to 161 over the same period.
Postdocs become highly valued independent researchers who become industry, education, and policy leaders. From 2015 to 2021, UNLV increased its postdocs from 33 to 48, and UNR expanded from 73 to 110.
According to the presenters, financial investment in research efforts is critical to each university's continued success. While grants can provide a solid foundation of support, state, and sponsored investment is synonymous with excellence at the national level.
From 2015 to 2021, UNLV nearly tripled its research expenditures from $42 million per year to $122 million. UNR nearly doubled its expenditures from $90.1 million to $175 million.
"This continuing R1 designation means we're doing research at a high level, driving discovery that's improving the health of our residents, and creating new partnerships and more opportunities for our students – all of which move our economy forward," said UNLV President Keith E. Whitfield. "UNLV's future is that of a powerhouse research university that's tangibly linked to one of the world's most dynamic and innovative regions, and I'm incredibly thankful for the immense contributions of our faculty, staff, and supporters who work every day to make us stronger."
"UNR's Carnegie R1 designation is a testament to remarkable teaching and innovation that continues to take place on our campus," University of Nevada, Reno President Brian Sandoval said. "Carnegie recognition recognizes the outstanding work of our faculty and students to benefit the Wolf Pack Family and the great state of Nevada"
Through its systematic evaluation of nearly 4,000 U.S. colleges and universities, the Carnegie Commission on Higher Education developed the Carnegie Classification in 1970. Designations are based on several factors, including an institution's research expenditures, the number of research staff it employs, and the number of doctoral degrees it confers each year.
Three-year cycles are used to update the designation to reflect changes among colleges and universities. UNLV and UNR will be re-evaluated in 2024.
About UNLV
The University of Nevada, Las Vegas is a doctoral-degree-granting institution with more than 30,000 students and nearly 4,000 faculty and staff that has earned the nation's highest recognition for both research and community engagement from the Carnegie Foundation for the Advancement of Teaching.
UNLV offers a broad range of respected academic programs and is committed to recruiting and retaining top students and faculty, educating the region's diverse population and workforce, driving economic activity, and improving the health and wellness of Southern Nevada's residents. Learn more at www.unlv.edu.
About UNR
The University of Nevada, Reno, is a public research university committed to the promise of a future powered by knowledge. Nevada's land-grant university was founded in 1874 and today serves 21,000 students. UNR is a comprehensive doctoral university, classified as an R1 institution with Very High Research Activity by the Carnegie Classification of Institutions of Higher Education. Additionally, it has attained the prestigious "Carnegie Engaged" classification, reflecting its student and institutional impact on civic engagement and service, fostered by extensive community and statewide collaborations. Since 2009, more than $800 million has been invested in advanced labs, residence halls, and facilities.
UNR is home to the University of Nevada, Reno School of Medicine, and Wolf Pack Athletics. The institution maintains a statewide outreach mission and presence through programs such as the University of Nevada, Reno Extension, Nevada Bureau of Mines and Geology, Small Business Development Center, Nevada Seismological Laboratory. Through a commitment to world-improving research, student success, and outreach benefiting the communities and businesses of Nevada, UNR continues to have an impact across the state and around the world. For more information, visit www.unr.edu.