Board of Regents Appoints Dale Erquiaga NSHE Acting Chancellor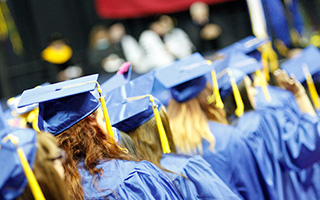 The Nevada Board of Regents yesterday approved the selection of Dale A.R. Erquiaga as the acting chancellor of the Nevada System of Higher Education (NSHE).
"Dale Erquiaga is a gifted innovator and strategist with over 35 years of successful experience in both the private and public sectors," said Cathy McAdoo, Board of Regents chair. "I have full confidence in his abilities to be a true asset for NSHE and the many communities we serve."
Erquiaga will assume the role on July 1 and serve for 18 months while the Board of Regents searches for a permanent chancellor.
"I am humbled and honored to serve as acting chancellor of this great state's public higher education system," said Erquiaga. "Our universities, state college, community colleges, and research institute are state treasures. I look forward to working with our students, faculty, staff, alumni, and friends to ensure our important work continues to positively impact the lives of all Nevadans."
Erquiaga has a long career in public service in Nevada, including a recent appointment as the executive director of the Kenny Guinn Center for Policy Priorities.
He earned a bachelor's degree in political science from the University of Nevada, Reno, and a master's degree in leadership from Grand Canyon University.
Erquiaga previously worked as the director of government affairs, public policy, and strategic planning at the Clark County School District and as superintendent of public instruction for the State of Nevada. He also served as director of the Nevada State Department of Museums, Library & Arts and was Nevada's chief deputy secretary of state.
Erquiaga's private sector experience includes a leadership role as vice president at R&R Partners and as national president and CEO for Communities in Schools, a federated network of organizations providing integrated student support in 25 states and the District of Columbia.