NSHE Marks Employee Vaccination Deadline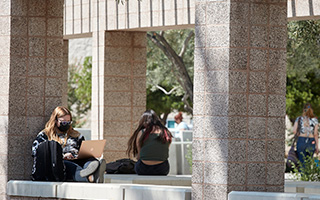 Today marks the Nevada System of Higher Education (NSHE) employee vaccination deadline passed by the Board of Regents on Sept. 30, 2021.  NSHE employees who are not vaccinated or do not have an approved exemption will be notified that the termination process will begin and become effective Dec. 31, 2021.
In accordance with the Board of Regents' vaccine mandate, NSHE employees must be fully vaccinated or have received an approved medical or religious exemption. If not, an employee faces possible termination. Employees who exclusively work remotely or telecommute pursuant to an approved agreement with their respective institution are exempt from the mandate.
There are several options for employees to stay the termination process. If an employee begins a vaccination regimen or receives an approved exemption during December, the termination process will be stayed or ended.
More than 92 percent of all NSHE employees are fully vaccinated as of Wednesday, December 1, 2021.
"Receiving the COVID-19 vaccination is the scientifically proven most effective way to protect the health and safety of the NSHE community and end the pandemic," NSHE Chancellor Melody Rose said. "I want to thank our public higher education community for continuing to adjust to the challenges brought on by the unprecedented COVID-19 pandemic. The health and wellbeing of NSHE's students, faculty, staff, and community continues to be our highest priority."
If an employee chooses to leave NSHE employment, there will be a 30-day grace period following termination from Jan. 1 to Jan. 31, 2022, that will allow them to request to be reinstated to their former position upon showing a completed COVID-19 vaccination series.
In the meantime, the current mask mandate remains in place as an additional form of protection for our community.