The Nevada Department of Education Announces $20.7M Investment to Incentivize Pathways to Teaching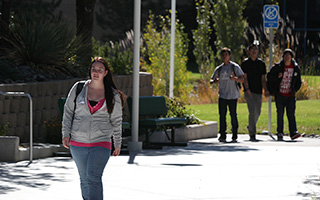 Western Nevada College President Vincent Solis announced his resignation effective Jan. 2, 2022 after he was officially named the next president of Brazosport College in Texas on Tuesday.
President Solis has led WNC since May 2018 when the Nevada System of Higher Education (NSHE) Board of Regents tasked him to lead the Carson City community college. He will begin in his new role in January.
"I have thoroughly loved my time here in Nevada and I believe strongly in WNC's mission to ensure the success of students in our classrooms and academic programs as we prepare them to excel in their chosen fields and serve as leaders in their communities," President Solis said. "I made this decision based on the opportunity to serve my home state of Texas and in consideration of my family needs."
During President Solis' time at Western Nevada College, the institution began offering its second bachelor's degree (a Bachelor of Applied Science in Organization and Project Management) online; launched Wildcat Reserve, a food and hygiene pantry to help eliminate food insecurity for students and their families; held its first-ever graduation ceremonies on the Carson and Fallon campuses; launched a Paramedicine program; supported the growth of a program for incarcerated students; and saw enrollment grow by 131% from high school students taking college courses (dual enrollment). Overall enrollment increased 6%, moving from 3,327 students to 3,528 students.
During his presidency, the college became a Hispanic Serving Institution (HSI) and grew Native American enrollment by 22% to 77 students across WNC's campuses. This growth has brought students of color to 36% of total enrollment which is a record for WNC.
He also guided and supported the WNC Foundation through a $1.35 million capital improvement and relocation project for the William N. Pennington Foundation biology lab on the Carson campus and the Foundation's $800,000 workforce development project to build a mobile manufacturing training lab to directly serve students in remote locations.
NSHE Chancellor Melody Rose thanked President Solis for his work leading Western Nevada College over the past three years.
"We are incredibly grateful to President Solis and all he has done to advance NSHE's student access and success goals at Western Nevada College," Chancellor Rose said.
Board of Regents' Chair Pro Tempore Carol Del Carlo added, "We want to wish President Solis all the best as he continues to help change student lives through higher education."
President Solis will be the fifth president of 53-year-old Brazosport College, which is located in Lake Jackson, Texas, south of Houston.
Chancellor Rose in consultation with Chair Pro Tempore Del Carlo and Vice Chair Pro Tempore Amy Carvalho, will announce additional information about temporary leadership in the coming weeks.