Passing of Former U.S. Congressman and Nevada Regent Jim Bilbray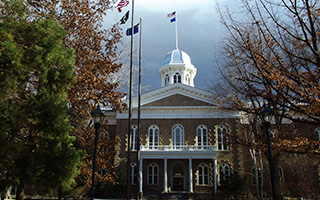 Former U.S. Congressman and Nevada Regent Jim Bilbray, who served the Nevada System of Higher Education (NSHE) from 1968 to 1972, passed away Sunday. He was 83 years old.
"Regent Bilbray served our state with distinction and was a selfless advocate for the Nevada System of Higher Education and its students," said Regents Chair Cathy McAdoo. "On behalf of the Board of Regents, Chancellor Melody Rose, NSHE staff, and our entire system, I want to express our sympathies to Regent Bilbray's family."
Born and raised in Las Vegas, Bilbray was a tireless champion for UNLV, where he attended school and was elected as president of the student body. He transferred and graduated from American University in Washington D.C., before going on to American University's Washington College of Law.
After, he returned to Las Vegas and joined the Nevada Bar in 1965. He helped found and served as the first president of UNLV's Alumni Association.
Regent Bilbray dedicated his life to public service in Nevada, which included serving time with the Nevada Army National Guard and Army Reserve, as a Nevada State Senator, and four terms as a U.S. Representative for Nevada's 1st Congressional District.
In 2015, Regent Bilbray was recognized as a Distinguished Nevadan, NSHE's most prestigious honor.