NSHE Employee Vaccine Rate Grows to 75 percent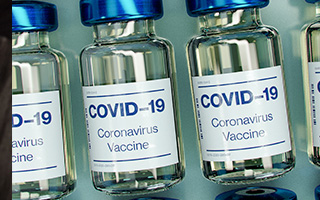 LAS VEGAS – More than 18,000 or 75 percent of the Nevada System of Higher Education's 23,883 employees are now vaccinated for COVID-19.
The COVID-19 vaccination rate for NSHE's employees has grown nearly 35 percent since percentage rates were first reported last week. And six of NSHE's eight campuses are reporting that more than 70 percent of employees are vaccinated. The other two campuses are at 65 percent and higher.
Among all NSHE employees, which includes academic and administrative faculty, classified staff, graduate assistants, student workers, and others from all eight institutions, system administration, and system computing services, the vaccination rate rose to 75.6 percent, from the previous week's rate of 56.1 percent.
Chancellor Melody Rose praised NSHE's employees for all they are doing to make our campuses safe by getting vaccinated.
"I am extremely proud of everyone who has chosen to get vaccinated. This effort will go a long way in making our campuses safe for our students and colleagues," Chancellor Rose said.
There were multiple reasons for the percentage growth, including:
More employees getting vaccinated;
Updating the state database, WEBIZ, by NSHE and its institutions;
Clarifying a discrepancy in the total employee count, which originally added 81 volunteers, contingent workers, and independent contractors, who are not directly paid by NSHE;
The State Board of Health decision to require all NSHE students to get the vaccine before registering for the spring semester.
"We have seen tremendous gains by all of our institutions, and I want to thank NSHE's presidents and their teams for all their hard work in supporting vaccination efforts and updating the state database," Chancellor Rose said.
The updated numbers show that six of the eight institutions have vaccination rates of 70 percent or more. Great Basin College and Western Nevada College have vaccination rates of 66.1 percent and 65.2 percent respectively.
Institution
Vaccinated
Employee Count
Vaccinated
Percentage
Unvaccinated
Employee Count
Unvaccinated
Percentage
Total
Employee Count
Total
Percentage
CSN
2,039
70%
875
30%
2,914
100.0%
DRI
325
87.1%
48
12.9%
373
100.0%
GBC
263
66.1%
135
33.9%
398
100.0%
NSC
621
78.6%
169
21.4%
790
100.0%
System Administration
136
85.5%
23
14.5%
159
100.0%
TMCC
916
75.6%
295
24.4%
1,211
100.0%
UNLV
7,468
74.6%
2,546
25.4%
10,014
100.0%
UNR
5,978
79.2%
1,572
20.8%
7,550
100.0%
WNC
309
65.2%
165
34.8%
474
100.0%
TOTAL
18,055
75.6%
5,828
24.4%
23,883
100.0%
"I remain confident that NSHE employees recognize the importance of the vaccination and I believe we will see continued growth in our vaccination rates in the coming weeks," Chancellor Rose said. "The science and data have consistently shown that receiving the COVID-19 vaccines continues to be the surest, safest, and most effective way to end the pandemic, and to keep Nevada learning."
The vaccination rate growth follows the unanimous decision by the Board of Regents to authorize NSHE Chancellor Melody Rose to develop a COVID-19 vaccine policy for all NSHE employees. Once the Chancellor and her team formulates the policy, which will include gathering the thoughts and ideas of NSHE stakeholders, it will be presented to the Board of Regents at a special meeting set for Sept. 30 to discuss and possibly act on the proposed policy.
"I continue to encourage every NSHE employee and student to get the vaccine as quickly as possible, not only for the health and wellbeing of yourself and your family, but also for your colleagues and students," Chancellor Rose said.
The COVID-19 vaccinations rates for NSHE employees will be updated weekly on NSHE's website.