NSHE, Institutions receive $830,000 in Grant money to help Foster Youth Initiative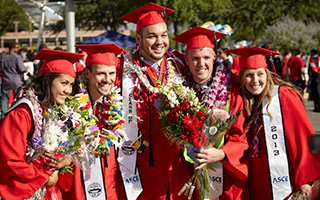 The Nevada System of Higher Education and its institutions have won $830,000 in grants to support its Foster Youth Success Initiative.
After awarding NSHE an initial $200,000 one-year grant a year ago, the Walter S. Johnson Foundation will support NSHE with $400,000 in grant funding for two additional years — to coordinate the initiative across its seven degree-granting institutions.
The Foundation also recently approved a $30,000 18-month grant for Truckee Meadows Community College. TMCC — the NSHE institution with the longest-standing formalized commitment to serving enrolled foster care alumni — is using the funding for a pilot project that will reinforce its existing efforts to support "vulnerable youth" and address resource gaps for former foster youth who are enrolled at the community college. The majority of TMCC's grant funding will go toward housing stability and peer mentor support for foster care alumni.
Additionally, the Foundation awarded UNLV a $200,000 two-year grant to launch a campus-based support program for enrolled former foster youth, including a new coordinator position dedicated to serving that student population.
"The progress that NSHE, UNLV, and TMCC have made in growing the Foster Youth Success Initiative is inspiring. We believe this grant will aid in the growth of the initiative and help even more foster youth take advantage of this great program," said Yali Lincroft, Program Director, Walter S. Johnson Foundation.
The Board of Regents first approved the NSHE Foster Youth Success Initiative in September 2018, which has helped more than 80 NSHE students with tuition assistance or other services.
The primary mission of the initiative is to help recruit, support, and retain students who have been dependents of the child welfare system. Foster youth face significant challenges when it comes to accessing and successfully completing a higher education degree or certificate. Nationally, less than 50 percent of foster youth graduate from high school and about 3 percent graduate from a four-year college by the age of 26, according to the National Foster Youth Institute.
"This grant will go a long way in growing this initiative and providing the wrap around support foster care youth need," said NSHE Chancellor Thom Reilly. "The support will be aimed at encouraging foster care students in high school to pursue higher education and providing supportive staff and services while they are attending one of our colleges or universities. This initiative will assist us in helping these youth become successful in college and overcome the many barriers that prevent them from graduating."
Regent Chair Jason Geddes added, "This initiative supports the Board of Regents' goals of student access and student success and helps ensure all Nevada youth have an opportunity to benefit from higher education. This grant will go a long way in growing this initiative for this unique underserved student population."
As the initiative grows, NSHE plans to create a statewide learning community, build a comprehensive post-secondary support system for foster youth, and develop effective post-secondary transition strategies that will expand foster youth-serving systems' capacity to support college-planning activities and create stronger career pathways for foster youth.
The Foster Youth Success Initiative Website can be found at:https://nshe.nevada.edu/fostering-success