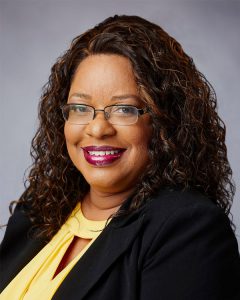 Clark County
Tenure
2018 - Present
Regent Laura E. Perkins was elected to serve on the Board of Regents of the Nevada System of Higher Education in 2018 representing District 1.
A former City of North Las Vegas Planning Commissioner and past-Chairman, she was motivated to run for the position of Regent to advance and expand the state's economic diversity by giving Nevada's workforce a broader skill set that will help attract a variety of companies to this great state.
With a foundational belief that personal and professional success lies in learning, Regent Perkins has long been affiliated with various institutions of higher education in Nevada, including positions as a teaching assistant at the College of Southern Nevada and a student liaison at the University of Nevada School of Medicine, where she assisted students in transitioning from the classroom to a clinical environment.
An experienced software technician, Regent Perkins earned a Bachelor of Science in Post-Secondary Education from the University of Nevada, Las Vegas with additional coursework in computer information technology, physics and calculus. She also earned an applied Associates of Arts and Sciences in Electronic Engineering Technology from the College of Southern Nevada. She also holds dozens of IT-related certificates and licenses.
Her professional career has included many positions not just within academia but also in the corporate world and as an entrepreneur. From 2006 to 2010, she worked with the Southern Nevada Health District as a GIS Technician II in the organization's environmental health department. She owned and operated her own online wholesale and consignment company. She has worked as an independent contractor and spent eight years teaching software applications to adults. Most interestingly, she is an experienced pyrotechnic operator, overseeing outdoor aerial fireworks displays where she is responsible for ensuring compliance with all state, local and federal safety regulations.
Active in the nonprofit community, Regent Perkins has long supported the Girl Scouts of Southern Nevada, an organization that changes lives by exposing girls to different ideas and experiences that broaden their understanding of community and the opportunities to be part of a bigger world. She is a supporter of the League of Women Voters; a group committed to enacting change through civic involvement. She is a member of Friends of the North Las Vegas Library District which encourages literacy programs within the Library District. Also, Regent Perkins is an advocate for conservation through membership in Protectors of Tule Springs, an organization responsible for preserving the archaeologically active area that is now Tule Spring National Monument.
Regent Perkins has received numerous recognitions for her participation, service and commitment to the community, including those from sitting Congressmen and Senators.
Committed to community betterment, Regent Perkins is a passionate and civically active resident of the Vegas valley where she lives with her family.