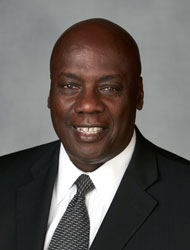 Frank Woodbeck
Vice Chancellor for Workforce Development
Phone: (702) 889-8426
Fax: (702) 889-8492
Email: Frank_Woodbeck@nshe.nevada.edu
---
As as vice chancellor for workforce development, Frank R. Woodbeck is responsible for launching workforce development initiatives within all NSHE institutions, including two universities, a state college and four community colleges; and establishing inter-agency linkages that will aid in the growth of career pathways that incorporate the curricula offered by NSHE institutions. Additionally, he works with System and institution leadership to launch and maintain curricula that will serve the workforce development demands of industry and services in Nevada. He also advocates for issues and advancements within the state and nationally that support workforce growth and stability in Nevada.
Woodbeck joined NSHE in April 2014 as executive director of the Nevada College Collaborative. He previously served as the director of the Nevada Department of Employment, Training & Rehabilitation (DETR), where he oversaw operations for Nevada's Employment Security Division, Bureau of Vocational Rehabilitation, Nevada Equal Rights Commission, Research and Analysis Bureau, and Information Development and Processing. Prior to becoming director of DETR, he served as the director of Las Vegas Operations and Workforce Initiatives with the Nevada Commission on Economic Development (predecessor to the Governor's Office of Economic Development).
In his earlier career, Woodbeck spent several years as an executive in the broadcast industry with ABC Radio and The Washington Post Company.
He currently serves on the Superintendent's Budget Task Force for the Clark County School District and is Board chair of Jobs for Nevada's Graduates. He also serves on the Board of the Las Vegas Global Economic Alliance, the Board and Executive Committee of Three Square Food Bank, and the Board of Goodwill of Southern Nevada.
He previously served on the cabinet of Governor Brian Sandoval, as well as the board of directors for the Nevada Center of Excellence.
He received his bachelor's degree in business management from the University of Buffalo and has also completed graduate management courses at the University of Buffalo and Harvard University.
Woodbeck is a veteran of the U.S. Air Force and is a recipient of the Vietnam Service Medal and the Air Force Commendation Medal.