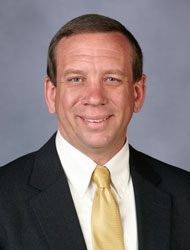 Vic Redding
Vice Chancellor for Finance & Administration
Phone: (775) 784-4901
Fax: (775) 784-6520
Email: Vic_Redding@nshe.nevada.edu
---
Vic Redding was appointed by Chancellor Daniel Klaich to serve as interim vice chancellor for finance and administration in June 2012, overseeing a variety of functions in the areas of fiscal policy, capital budgeting and financial reporting, as well as the day-to-day operations of the NSHE Risk Management office, Banking and Investment office, and System Facilities office. Prior to this, he served as assistant vice chancellor of finance and the senior fiscal operations officer in the NSHE System Administration office. Before joining System Administration in 2005, Mr. Redding was the assistant CFO for the University of Nevada School of Medicine.
He has a bachelor's degree in Business Management and a minor in Accounting from Montana State University, Bozeman and a Master of Business Administration from the University of Nevada, Reno. Mr. Redding is also a Certified Management Accountant (CMA).
Mr. Redding was also appointed by Governor Brian Sandoval in February 2012 as a Nevada Western Interstate Commission on Higher Education (WICHE) commissioner. In this role, he oversees the operations of the Nevada WICHE office and is one of three Nevada Commissioners representing the state on a variety of higher education issues.