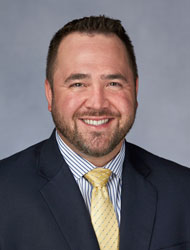 Nate Mackinnon
Vice Chancellor for Community Colleges
Phone: (775) 784-3430
Fax: (775) 784-1127
Email: nmackinnon@nshe.nevada.edu
Nate Mackinnon joined the Nevada System of Higher Education (NSHE) in July 2017 as the Vice Chancellor for Community Colleges. In this role, he works closely with the Chancellor, Board of Regents, and college presidents to provide leadership, coordination, and advocacy for the System's four community colleges.
Prior to his employment with NSHE, Mackinnon served eight years as Assistant Commissioner and Chief of Staff for the Massachusetts Department of Higher Education. He previously held positions as research director for the Joint Committee on Education for the Massachusetts State Legislature and research coordinator/education specialist/department spokesperson for the Office of the Commissioner in the Massachusetts Department of Education.
Mackinnon graduated Magna Cum Laude from Northeastern University in Boston with a Bachelor of Science in Political Science and received his Master in Public Administration from Harvard University. He was the 2014 recipient of the Lucius N. Littauer Award from the Harvard Kennedy School of Government and was the Governor Robert F. Bradford Fellow for the Commonwealth of Massachusetts at Harvard University in 2013-2014.
Vice Chancellor Mackinnon is an adjunct faculty member at Truckee Meadows Community College in the Political Science department. He resides in Reno with his wife, Kaitlyn, and their daughter and two dogs.