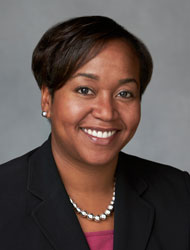 Dr. Constance Brooks
Vice Chancellor for Government & Community Affairs
Phone: (702) 889-8426
Fax: (702) 889-8492
Email: cbrooks@nshe.nevada.edu
---
Dr. Constance Brooks joined NSHE in 2012 and is the vice chancellor for government and community affairs. In this role, she provides oversight in the areas of government affairs, communications, diversity initiatives and community outreach. Dr. Brooks assists and supports the development of system-wide initiatives, catalyzes effective community collaboration and outreach, ensures targeted messaging and serving as the chief advisor for governmental affairs, policies, strategies and analytics.
Prior to her employment with NSHE, Dr. Brooks served as director of government affairs and diversity initiatives for the College of Southern Nevada. She began her career in higher education in 1998 as an admission counselor / coordinator for multicultural recruitment for Millikin University in Decatur, Illinois. Her experience in government affairs began when she served as a lobbyist / legislative liaison for Clark County, Nevada and served in that capacity for six years.
She received her doctorate in public affairs from the University of Nevada, Las Vegas. Her research emphasis was the nexus between public policy and identity in politics with African American women mayors as her research population. She also received her master's degree in social work with a concentration in administrative practice and planning from UNLV. Dr. Brooks earned her bachelor's degree in social work from Southern Illinois University.
She is currently an adjunct professor teaching public policy at UNLV.
Dr. Brooks is the 2005 recipient of the UNLV Thomas Wilson Academic and Community Service Award. She is also the 2008 recipient of the Clark County New Generation Leadership Award and is a graduate of Emerge Nevada and Clark County Leadership Forum.
She was featured in the inaugural edition of Who's Who in Black Las Vegas in 2008 and will be featured in the 2014 publication of Distinguished Women of Nevada.
Dr. Brooks is involved in several community organizations, including Catholic Charities, Clark County Citizens Advisory Committee, Clark County Juvenile Justice Sister to Sister mentoring program, UNLV School of Social Work Advisory Board, Delta Sigma Theta Sorority, Incorporated, and The Links, Incorporated.