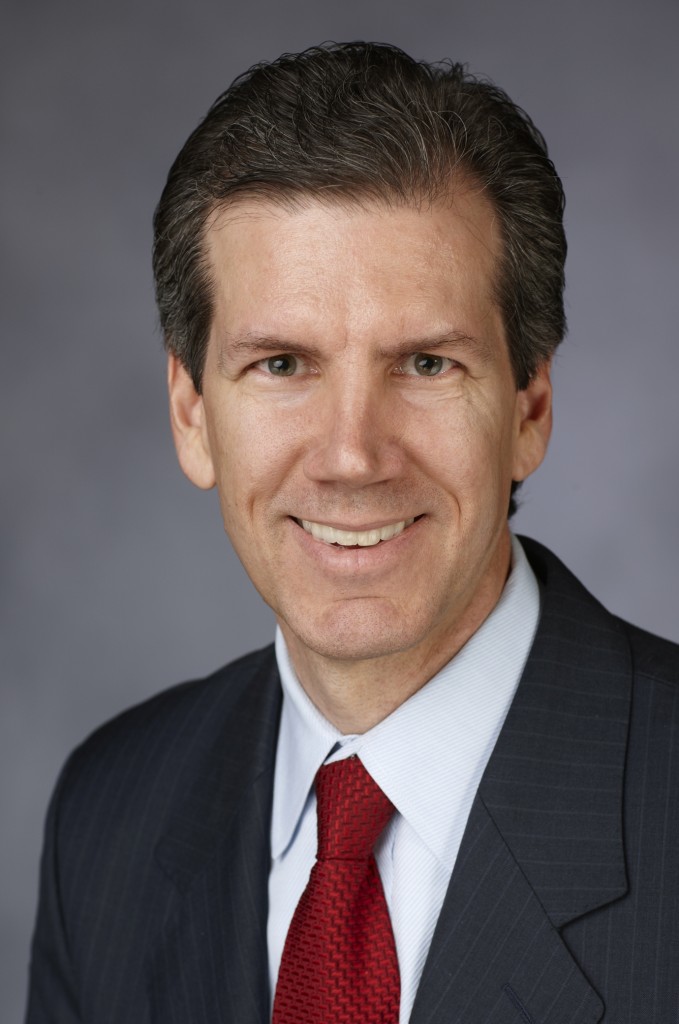 Regent Mark W. Doubrava was elected to the Board of Regents in 2010. He was retained in the 2016 election as the representative for Clark County, District 7.
He currently serves as chair of the Health Sciences System Committee and the ad hoc Committee to Review the Roles and Responsibilities of the Chancellor. He is also a member of the Audit, Compliance and Title IX Committee; Business, Finance and Facilities Committee; and the ad hoc Strategic Planning Committee.
He served one term as Board chair (2020-2021) and one term as Board vice chair (2019-2020).
A longtime Nevadan, Doubrava graduated from Ed W. Clark High School in Las Vegas in 1981. He went on to earn his bachelor's degree from the University of Nevada, Las Vegas in 1985 and a Doctor of Medicine degree from the University of Nevada School of Medicine in 1989.
Doubrava served a transitional internship at Baylor College of Medicine in Houston, Texas and a four-year residency at Louisiana State University Eye Center (1992-1996). After completing a fellowship at the Eye, Ear, Nose and Throat Hospital of New Orleans, he returned to Las Vegas where, as an ophthalmologist, he has operated a thriving medical practice since 1997.
Education
University of Nevada School of Medicine, Reno – 1989
– Doctor of Medicine
University of Nevada, Las Vegas – 1985
– Bachelor of Liberal Studies
Carleton College, Northfield, Minnesota – 1983
Ed W. Clark High School, Las Vegas – 1981
Postgraduate:
Fellowship: Cornea and Refractive Surgery
Preceptor: Marguerite B. McDonald, M.D.
Eye, Ear, Nose, and Throat Hospital, New Orleans, Louisiana
July 1996 – July 1997
Residency: LSU Eye Center
Louisiana State University, New Orleans
July 1992 – June 1996 (Four year residency)
Internship: Transitional
Baylor College of Medicine, Houston, Texas
July 1990 – June 1991
Hospital Affiliations & Professional Experience
University Medical Center
Summerlin Hospital , Past Chair, Division of Ophthalmology
Eye Care for Nevada
Solo private practice
July 1997 – present
Civic and Professional Affiliations
American Academy of Ophthalmology
– Secretariat State of Affairs Leadership Development Program, 2001
American Society of Cataract and Refractive Surgery
International Society of Refractive Surgery
Admissions Committee, University of Nevada School of Medicine, 2007-2009
Search Committee for Executive Vice Chancellor, University of Nevada Health Sciences System, 2006-2007
NSHE Health Sciences System Citizen Advisory Committee, 2006-2007
Nevada Ophthalmological Society
– President, 2004-2006
Clark County Medical Society
– Board of Trustees, 2004 – 2008
– Member since 2000
UNLV Alumni Association
– Board Member, 1999 – 2002
– Member since 1985
UNLV Foundation President's Associates
Associated Medical Students of the University of Nevada
– Student Body President, 1987
– Student Executive Committee Chairman, 1987
Nevada State Medical Association
– State Convention Delegate, Carson City, Nevada, 1987
Association of American Medical Colleges – OSR
– National Convention Delegate, Washington, D.C., 1987
– National Convention Alternate Delegate, New Orleans, 1986
American Medical Association – Medical Student Section
– National Convention Alternate Delegate, Chicago, 1987
Liaison Committee for Medical Education (LCME)
– Accreditation Self Study Task Force
– University of Nevada Student Representative, 1987
University Of Nevada, Las Vegas Faculty Senate Student Representative
– Academic Standards Committee, 1983-85
– Curriculum Committee, 1983-85
– Admissions Committee, 1983-85
University of Nevada, Las Vegas Student Ambassador Program
– Co-founder and Member, 1984-85
Consolidated Students of the University of Nevada Senator, 1984-1985
University of Nevada, Las Vegas Pre-Professional Association, 1983-85
Student Representative President's Committee to establish UNLV Honors Program, 1985
Awards/Honors
Distinguished Physician of the Year 2016, Nevada State Medical Association
Clark County Medical Society Presidential Award, 2015
Consultant of the Year, Nevada Academy of Family Physicians, 2010
Dean's Outstanding Alumnus Award, University of Nevada School of Medicine, 2009
Las Vegas Life Magazine Best Doctors in Las Vegas, 2000, 02, 04, 06, 07
Outstanding Fellow Classmate, University of Nevada School of Medicine, Class of 1989
Delivered graduation speech at Academic Hooding Ceremony, 1989
Frank Netter CIBA Collection Book Award, 1987
Outstanding Senator, Consolidated Students of the University Nevada, 1984
UNLV Pre-professional Association Recognition Award, 1984
Alpha Epsilon Delta Pre-medical Honor Society
Salutatorian Ed W. Clark High School, Class of 1981
National Honor Society, 1978-8; Chapter President, 1981
U. S. Department of Energy, Outstanding Natural Science Student, 1981
Eagle Scout Award, Boy Scouts of America, Troop 78 Las Vegas, 1981
U. S. Air Force Academy, Summer Scientific Seminar, 1980
Nevada Boys' State, 1980
Research & Presentations
Eye, Ear, Nose and Throat HospitalAutonomous Excimer Laser U.S. Clinical FDA Trial Phase II and III
Surgical Correction Low Myopia, Co-investigatorNidek Excimer Laser U.S. Clinical FDA Trial Phase II and III
Surgical Correction Low, Moderate, and High Myopia
Nidek EC-5000 for LASIKChiron / Technolous Excimer Laser U.S. Clinical FDA Trial Phase II and III Surgical Correction of Low Myopia and Astigmatism
Louisiana State University LSU Eye CenterComparison of Ablation Characteristics and Central Islands for VISX Excimer Laser Software 2.7 and 4.1
LSU Resident's Day June 1996
Parabulbar Anesthesia and Cataract Surgery
LSU Resident's Day June, 1994
University of California, Los Angeles Jules Stein Eye InstituteAfferent Pupillary Defects and Pupillography
Preceptor: Robert S. Hepler, M.D.
February 1, 1990 thru May 31, 1990
University of Nevada School of MedicineLow Dose Methotrexate in the Treatment of Ocular Disease
Pan American Implant Association Eighth Annual Winter Workshop
Hollywood, Florida, December, 1989
Publications
Book Chapters:
Marguerite B. McDonald, MD Mark W. Doubrava, MD: New Developments in Excimer Lasers. Chapter in LASIK. I Pallikaris and DS Siganos (eds) Slack Inc., Thorofare, NJ 1998, pp 7-11
Scientific Articles and Abstracts:
McDonald MB, Wyse T, Borodkin M, Ocmand A, Doubrava M, Kim C: First US sighted eye results on low myopia with the Autonomous Tech-nologies scanning and tracking excimer laser. Aegean Cornea III Mtg. Samos Island, Greece p 37, September 1996 Abstract.
Dajud MV, Ocmand A, Doubrava M, Kim C, Srivannaboon S, Tan A,
McDonald MB: A clinical study of contrast sensitivity after photorefractive keratectomy (PRK) with the Auto-nomous excimer small beam tracking laser. Inv Oph Vis Sci 38 (4) : S537-#2493, 1997. Abstract.
Klyce SD, McDonald MB, Doubrava M, Kim C, Tan A: Small beam Tracking excimer laser PRK topography. Inv Oph Vis Sci 38 (4): S697-#3241, 1997. Abstract
Srivannaboon S, Doubrava M, McDonald MB, Klyce SD: Prospective clinical trial comparing a topographically guided artificial Intelligence software system versus clinical expertise for fitting normal and pathologic corneas with contact lenses. Inv Oph Vis Sci 38 (4): S1089-#5091, 1997. Abstract.
Klyce SD, Smolek MK, Oshika T, McDonald MB, Doubrava M, Kim C: Corneal topography after PRK. Abstract for International Congress of Ophthalmology Amsterdam, 1998.
Coorpender SJ, Klyce SD, McDonald MB, Doubrava MW, Kim C, Tan AL: Corneal topography of small beam tracking excimer laser photorefractive keratectomy. Journal of Cataract and Refractive Surgery May 1999
Mustonen RK, McDonald MB, Kim CK, Doubrava MW: Using In vivo scanning slit confocal microscopy to objectively evaluate Haze after photorefractive keratectomy. Cornea September 1998