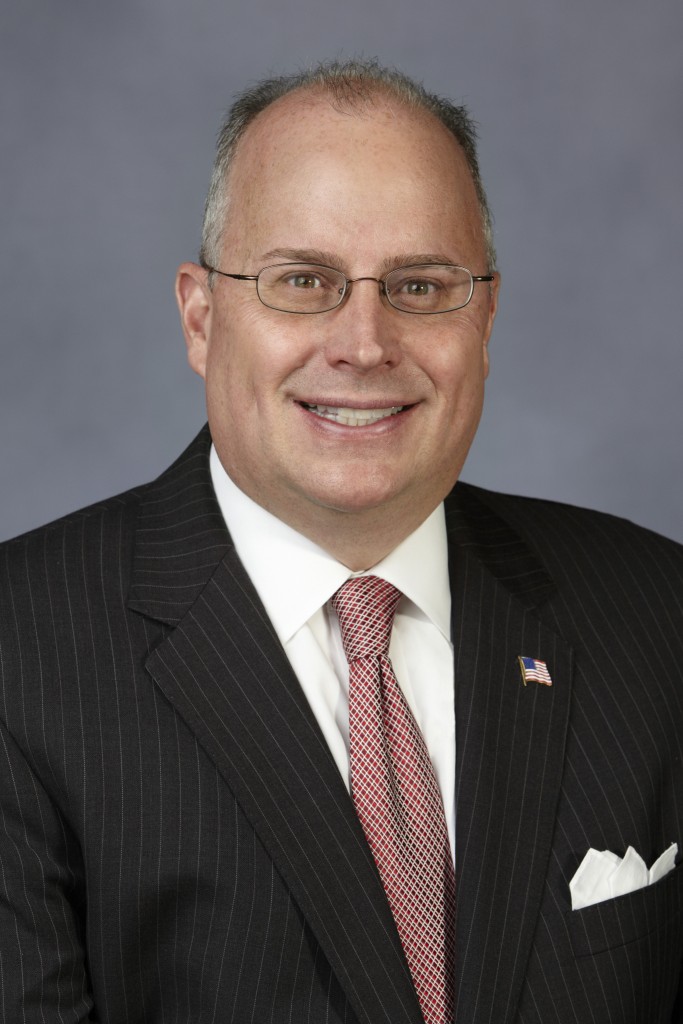 Regent Kevin Page was appointed to the Board of Regents by Gov. Jim Gibbons in January 2009 and was retained in the 2010 and 2014 elections as the representative for District 3.
He currently serves as chairman of the Board of Regents.
Regent Page previously served two terms as chairman of the Board (2013-2014 and 2014-2015) and two terms as vice chairman of the Board (2011-2012 and 2012-2013).
He also served as chair of the Business, Finance and Facilities Committee and the ad hoc Chancellor Search Committee, and co-chair of the Athletics Committee. He is a past member of the Audit and Compliance Committee and the Health Sciences System Committee. Regent Page currently serves on the UNLV Campus Improvement Authority Board of Directors. He previously served on the University of Nevada, Las Vegas, University of Nevada, Reno and Nevada State College President Search Committees, the University of Nevada, Las Vegas Periodic Presidential Evaluation Committee as well as the Interim Legislative Committee to Study the Funding of Higher Education.
Regent Page was born and raised in Queens, New York where he graduated from Monsignor McClancy Memorial High School in 1982. He went on to receive a Bachelor of Science in Business Administration in Finance with a concentration in investments from the University of Nevada, Las Vegas in 1986. He also earned his Master of Business Administration from UNLV in 1987.
Regent Page was awarded the Outstanding Alumni for the College of Business and Economics in 2000. In 2006, he became the youngest and only the second UNLV Alumnus to be awarded both the UNLV Alumnus of the Year and Distinguished Nevadan Award, which is the most prestigious award conferred by the Board of Regents.
He served on the UNLV Alumni Board of Directors from 1989-2005, on the Executive Board from 1994-2005, as Treasurer from 1996-1998, as First Vice President from 1994-1996 and 1998-2000, and as Alumni President from 2000-2003.
He is a past board member of the Police and Fire Emerald Society of Nevada and Police and Fire Emerald Society of Nevada Foundation which raises scholarship money for kids of police and firemen killed on 9-11 and in the line of duty. Regent Page is also a member of the Knights of Columbus.
Regent Page is currently Managing Director and Senior Relationship Manager for Wells Capital Management–Institutional Investment Management Services and has held this position since 2000. He and his wife Patty reside in Las Vegas and have three daughters.
Education
University of Nevada, Las Vegas (1986-1987)

Master of Business Administration, 1987
Phi Kappa Phi National Honor Society
Who's Who Among American Colleges and Universities

University of Nevada, Las Vegas (1983-1986)

Bachelor of Science in Business Administration (Finance/Concentration in Investments), 1986
Financial Management Association National Honor Society
Dean's List, College of Business and Economics
National Dean's List

St. John University – Jamaica, New York (1982-1983)
Professional Experience
Wells Capital Management (Las Vegas) – Managing Director and Senior Relationship Manager, Taft-Hartley Client Services, 2000-present
First Security Investment Management (Las Vegas) – Senior Vice President and Senior Portfolio Manager, 1996-2000
First Interstate Bank of Nevada (Las Vegas) – Assistant Vice President and Trust Investment Officer II, 1986-1996
Professional Affiliations
Graduate, Las Vegas Chamber of Commerce Leadership Las Vegas, Class of 1999
Past Member, Las Vegas Chamber of Commerce Leadership Youth Selection Committee and Leadership Las Vegas Selection Committee
Member, Nevada Contractors Association (N.C.A.)
Member, Associated General Contractors (A.G.C.)
Member, Southern Nevada Association of Financial Professionals
Member, Board of Directors, Economic Club of Las Vegas
Past Member, Western Pension & Benefit Association
Member, International Foundation of Employee Benefit Plans
Member, Financial Analysts Society of Southern Nevada
Past Member, Financial Analysts Society of Salt Lake City
Member, Association of Investment Management Research
Member, UNLV Campus Improvement Authority Board of Directors
Member, UNLV Intercollegiate Athletic Council 2000-2009
Member, UNLV Director of Inter-Collegiate Athletics Search Committee, 2003
Member, Boy Scouts of America Distinguished Eagle Scout Committee, 2002
Past Member, International Scouting Museum, Las Vegas, Board of Trustees
Member, UNLV Foundation Finance, Audit and Investment Committee, 2000-2003
Member, UNLV College of Business and Economics Dean Search Committee, 1999
Past Board of Directors, Police and Fire Emerald Society of Nevada, Inc.; Foundation Board Member
Civic/Charitable Affiliations and Awards
Member, Executive Board, Boy Scouts Las Vegas Area Council, 2010-present
Member, Knights of Columbus
Member, Kiwanis Club of Las Vegas, 1989-present; Board of Directors, 1992-1996, Treasurer, 1990-1992
Volunteer, International Make-A-Wish Foundation, European Charity Band Tour, 2007, 2008, 2009
UNLV Alumni Association Executive Board of Directors, 1990-2005
President, UNLV Alumni Association, 2000-2003
Volunteer CPR Instructor, American Red Cross, 1982-1990
Member, Maspeth Volunteer Ambulance Corps, 1978-1983; Board of Directors, Director of Financial Operations, 1980-1982
Distinguished Nevadan Award, Board of Regents, 2006
Alumnus of the Year, UNLV Alumni Association, 2006
2009 Monsignor McClancy Memorial High School Cor Jesu Award (highest honor bestowed upon a community member)
Police and Fire Emerald Society of Nevada Board Member of the Year, 2003 and 2008
In Business Las Vegas 2002 Top Business People under 40
2002 Citizen of Distinction, Foundation for an Independent Tomorrow
Outstanding Alumni, UNLV College of Business & Economics, 2000
Southern Nevada Top 40 Under 40, 1999
Member of the Year and Outstanding Service Award, Maspeth Volunteer Ambulance Corps