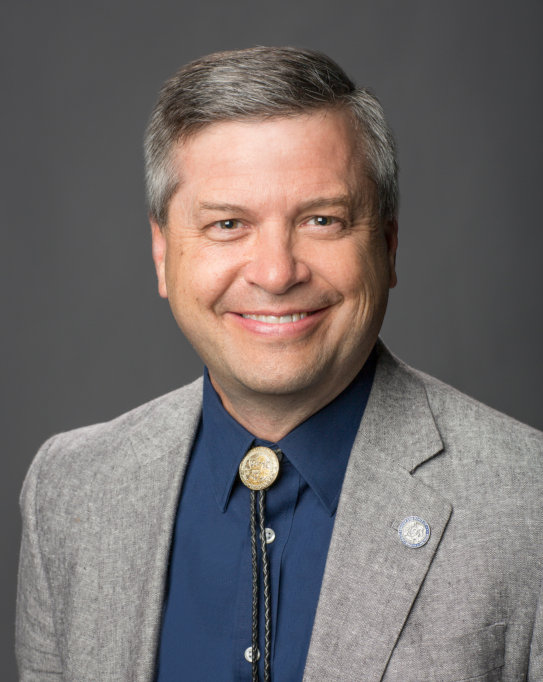 Regent Jason Geddes was appointed by Governor Kenny Guinn to serve on the Board of Regents in 2006 and was retained in the 2008, 2010 and 2016 elections as the representative for District 11.
He currently serves as chair of the Academic, Research and Student Affairs Committee. He is also a member of the Audit, Compliance and Title IX Committee; the Workforce Committee; and the ad hoc Committee to Review the Roles and Responsibilities of the Chancellor.
In December 2019, Regent Geddes was appointed by Governor Steve Sisolak to serve as a member of the Education Commission of the States for the State of Nevada.
Regent Geddes previously served as chair of the Board's Academic, Research and Student Affairs Committee and the Investment Committee, and co-chair of the Athletics Committee. He also served as vice chair of the Community College Committee and Health Sciences System Committee.
He served three terms as Board Chairman (2011-2013; 2019-2020) and five terms as vice chairman (2008-2011; 2017-2019).
Regent Geddes was born in Winnemucca, Nevada but spent his formative years in Gabbs. He attended Traner Middle School and Sparks High School. Through scholarships and a full-time job, he attended the University of Nevada, Reno where he became involved with student government and public service. While pursuing a bachelor's degree in biochemistry, he worked full time and served as the Associated Students of the University of Nevada (ASUN) Agriculture Senator, Speaker of the Senate, Vice President, President and University of Nevada System Student Legislative Spokesman.
He was elected to serve in the Nevada State Assembly in 2002 and while serving was an active member of the Education, Judiciary, and Natural Resources, Agriculture and Mining committees.
Regent Geddes and his wife Cindie are enjoying the adventures brought by the ever changing experiences of their son, Joe, a student at the University of Nevada, Reno.
Regent Geddes earned a Bachelor of Science degree from the University of Nevada, Reno in biochemistry with minors in biology and chemistry. He also earned a Ph.D. from UNR in environmental sciences and health (environmental chemistry option).
Education
University of Nevada, Reno, 1995
Ph.D., environmental sciences and health (environmental chemistry option)
University of Nevada, Reno, 1990
B.S., biochemistry with minors in biology and chemistry
Professional Experience
Energy Conservation and Sustainability Program Manager, Washoe County School District
Environmental Services Administrator, City of Reno
Government Affairs Manager, Economic Development Authority of Western Nevada
Environmental Affairs Manager, University of Nevada, Reno
Assemblyman, Nevada State Assembly
Senior Petroleum Chemist, Nevada Department of Agriculture
Petroleum Chemist, Nevada Department of Agriculture
Director of Operations, Nevada Environmental Laboratories
Quality Assurance Officer, Nevada Environmental Laboratories
Civic and Professional Affiliations
Truckee Meadows Water Authority, Director
Judicial Selection Commission, State of Nevada
American Chemical Society
Energy and Environment Committee, University of Nevada, Chair
Renewable Energy Deployment Transmission and Distribution Workgroup, State of Nevada
Renewable Energy & Energy Conservation Task Force, State of Nevada, Chair
Truckee Meadows Clean Cities Coalition, Director
Nevada Fuel Standards Environmental Coordination Committee, Chair
State of Nevada Board of Psychological Examiners, Secretary/Treasurer
Clark County Air Quality Forum
Friends & Alumni of the College of Agriculture, Biotechnology and Natural Resources, President
Young Alumni Chapter, President
New Student Union Planning Team, University of Nevada
Sustainable Building and Clean Energy Committee, University of Nevada System
Honors and Awards
University of Nevada, Reno — Outstanding Young Alumni
Nevada Wildlife Federation — Legislator of the Year
Environmental Community of Northern Nevada — Golden Pinecone Award
American Institute of Architects of Nevada — Livable Community Award
Outstanding Professional Achievement, University of Nevada, Reno Graduate School
National Graduate Student Award for Outstanding Achievement in Environmental Chemistry — American Chemical Society
National Graduate Student Paper Award — Lewis Publishers and American Chemical Society
Graduate Student Paper Award — University of Nevada
U.S. – Soviet Student Leadership Exchange
University of Nevada Board of Regents Outstanding Student (three times)
University of Nevada Board of Regents Scholar