LAS VEGAS – Leaders from the Nevada System of Higher Education (NSHE) and Board of Regents have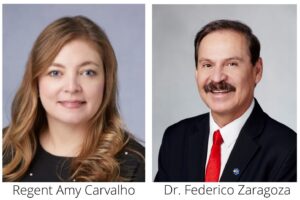 been appointed to serve on national boards of distinguished higher education organizations.
Regent Amy Carvalho was appointed to the Association of Governing Boards of Universities and Colleges (AGB) Council of Finance Committee Chairs – made up of finance committee chairs, chairs-elect, and vice chairs from a diverse array of AGB members. Regent Carvalho serves as chair of the NSHE Board of Regents' Business, Finance, and Facilities Committee.
The AGB Council of Finance Committee Chairs aims to provide a network to share leading practices with peers; learn how boards, systems and institutions are succeeding; facilitate peer and cross-sector learning, starting with the experiential wisdom each council member contributes; and test new ideas, resources, and services, while hearing directly from members on how to best focus its efforts to shape everything from governance advice to public policy.
College of Southern Nevada President Federico Zaragoza was selected to serve on the Board of Directors of the American Association of Community Colleges (AACC), the primary advocacy organization for the nation's community colleges. The association represents nearly 1,200 two-year, associate degree-granting institutions and more than 12 million students.
The AACC, in service since 1920, is a leader in creating access to higher education for all, helping community colleges serve as the gateway to the American dream. Dr. Zaragoza's term began July 1, 2021 and runs through 2024.
Board of Regents Chair Cathy McAdoo said, "We are proud to have members of the NSHE Board of Regents and presidents appointed to national organizations. Their leadership is representative of the knowledge, success, competence, and expertise in Nevada's system of higher education."
ABOUT CSN
The College of Southern Nevada empowers our students and communities to achieve, succeed, and prosper. Founded in 1971, CSN is a nationally recognized student success leader specializing in two-year degrees and a select number of bachelor's degrees in specialized fields.
About NSHE
The Nevada System of Higher Education, comprised of two doctoral-granting research universities, a state college, four comprehensive community colleges, and one environmental research institute, serves the educational and job training needs of Nevada. NSHE provides educational opportunities to more than 100,000 students and is governed by the Nevada Board of Regents.