LAS VEGAS – The Nevada System of Higher Education (NSHE) Board of Regents elected Chair Cathy McAdoo and Vice Chair Patrick Carter to serve as the officers of the Board for Fiscal Year 2022.
The Board of Regents' leadership is comprised of a chair and vice chair who are elected by the Regents. The term for the elected officers is one year, from July 1, 2021 to June 30, 2022.
"I am honored to serve the Board of Regents as Chair and I look forward to working with my fellow Regents to grow student access and success at our eight institutions of higher education," said Chair McAdoo, who represents District 8, which includes Clark, Elko, Eureka, Humboldt, Lincoln, Nye and White Pine Counties. "I remain committed to Nevadans and to the oath of office to serve and lead the best way that I can."
Vice Chair Carter who represents District 6 in Clark County, said he is invigorated by the challenging work that awaits the Board.
"I look forward to assisting Chair McAdoo, the entire Board, and Chancellor Melody Rose in advancing our goals in the upcoming year," Vice Chair Carter said.
About Chair McAdoo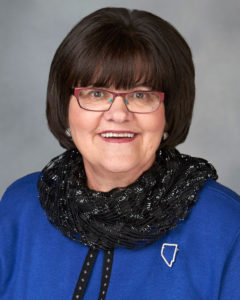 Regent Cathy McAdoo was elected to serve on the Board of Regents of the Nevada System of Higher Education in the 2016 election as the representative for District 8. She currently serves as chair of the Community College Committee and Health Sciences System Committee, and vice chair of the Cultural Diversity Committee. She is also a member of the Academic, Research and Student Affairs Committee.
In January 2018, Regent McAdoo was appointed by Governor Brian Sandoval to serve as the representative of the Nevada System of Higher Education on the State Board of Education. In January 2020, she was reappointed to the position, this time by Governor Steve Sisolak.
Regent McAdoo was born in Oklahoma and raised in Kansas, eventually moving to Nevada with her husband Kent who had accepted a graduate research study with the University of Nevada, Reno. While living in the outback of rural Nevada for 13 months, trailing a band of sheep for Kent's research project, the couple found rural Nevada irresistible and has called it home ever since. They chose to live in Elko, where Regent McAdoo most recently served as the founding Executive Director of PACE Coalition, a nonprofit organization whose mission included educating students in Elko, Eureka and White Pine counties about healthy life choices. This position afforded her 14 years of board experience at PACE and the opportunity to serve on other boards.
Regent McAdoo's interest in serving Nevada as an NSHE Regent stems from her own passion for life-long learning. Through her career pathway, volunteer activities, love for people, and her commitment to healthy communities, education remains at the core of what she does and who she is.
About Vice Chair Carter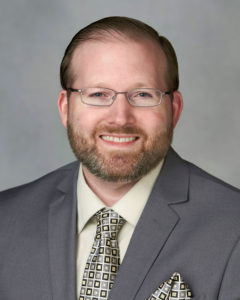 Dr. Patrick R. Carter successfully sought a seat on the Board of Regents in 2016 with the goal of adding the perspective of someone who has had experience teaching at the college level. He currently serves as chair of the Audit, Compliance and Title IX Committee and Investment Committee; chair of the Sustainability Committee; and as vice chair of the Academic, Research and Student Affairs Committee. He is also a member of the Cultural Diversity Committee.
The author of Success in College: An Orientation Guide for College Students, written to aid incoming college students on how to be successful in higher education, Regent Carter hopes to have an impact on raising both the enrollment and graduation rates at NSHE degree-granting institutions.
Low national rankings show that Nevada has to do a better job in educating students and providing pathways to higher education and new workforce careers, according to Regent Carter, who believes there needs to be a unified effort to make education a priority in our state.
Nevada's K-12 education is vital to higher education because those students make up the vast majority of enrollees at NSHE colleges and universities. Whether a student earns a certificate or an advanced degree, Regent Carter wants to make sure they are prepared to contribute to a good business environment in Nevada.
Regent Carter obtained his Doctorate in Business Administration at Argosy University where he also completed Doctoral Studies in Higher and Postsecondary Education. His first teaching assignment was at a remote education center intended for high school students to earn college credit. Since then, Regent Carter has taught as an adjunct faculty member online, as well as on campus for several different institutions. Most recently, he served for five years as Program Chair – Media for the Art Institute of Las Vegas, where he was also a full-time faculty member for more than four years.
Regent Carter currently teaches middle school and high school classes in communication, journalism, and computer science at Mater Academy East Las Vegas.
ABOUT NSHE
The Nevada System of Higher Education, comprised of two doctoral-granting universities, a state college, four comprehensive community colleges and one environmental research institute, serves the educational and job training needs of Nevada. NSHE provides educational opportunities to more than 100,000 students and is governed by the Board of Regents.