LAS VEGAS – The Nevada System of Higher Education (NSHE) Board of Regents elected Chair Mark Doubrava and Vice Chair Carol Del Carlo to serve as the officers of the Board for Fiscal Year 2021.
The Board of Regents leadership is comprised of a chair and vice chair who are elected by the Regents. The term for the elected officers is one year, from July 1, 2020 to June 30, 2021.
"I am honored to serve the Board of Regents as Chair and I look forward working with my fellow Regents to grow student access and success at our eight institutions of higher education," said Chair Doubrava, who represents District 7 in Clark County. "Our focus must remain on providing our more than 100,000 students an affordable and quality education. The months to come will be difficult due to the economic disruption caused by the COVID-19 Pandemic, however, I believe that by working together we can come back stronger than before."
Vice Chair Del Carlo, who represents District 9, which includes Carson City, Churchill, Douglas, Esmeralda, Lander, Lyon, Mineral, Storey, and Washoe counties, said she is invigorated by the challenging work that awaits the Board.
"I look forward to assisting Chair Doubrava and the entire Board in advancing our goals in the upcoming year," she said.
About Chair Mark Doubrava
Chair Doubrava was elected as the representative for Clark County, District 7 to the Board of Regents in 2010 and was re-elected in 2016. He most recently served as chair of the Health Sciences System Committee and vice chair of the Security Committee. He was also a member of the Business, Finance and Facilities Committee.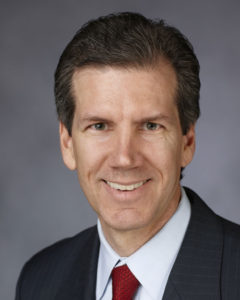 A longtime Nevadan, Doubrava graduated from Ed W. Clark High School in Las Vegas in 1981. He went on to earn his bachelor's degree from the University of Nevada, Las Vegas in 1985 and a Doctor of Medicine degree from the University of Nevada School of Medicine in 1989.
Doubrava served a transitional internship at Baylor College of Medicine in Houston, Texas and a four-year residency at Louisiana State University Eye Center (1992-1996). After completing a fellowship at the Eye, Ear, Nose and Throat Hospital of New Orleans, he returned to Las Vegas where, as an ophthalmologist, he has operated as a solo practitioner since 1997.
In 2016, he was recognized by the Nevada State Medical Association as " Distinguished Physician of the Year".
About Vice Chair Carol Del Carlo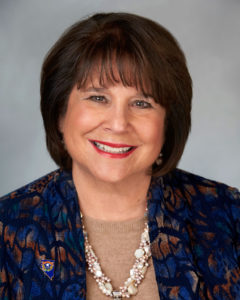 Regent Carol Del Carlo was elected to serve on the Board of Regents in November 2016 and was retained in the 2018 general election as the representative for District 9. She currently serves as chair of the Community College Committee and vice chair of the Business, Finance and Facilities Committee. She is also a member of the Audit, Compliance and Title IX Committee; Investment Committee; and Security Committee.
Regent Del Carlo is a native Nevadan, born and raised in Reno, whose paternal Italian immigrant ancestors settled the Truckee Meadows in 1907. On her maternal side, her Hispanic heritage traces back to an original land grant family in San Diego County. She continued to pursue her education while working full-time and in 1981 she graduated magna cum laude with a Bachelor of Arts degree in business administration with a minor in business education from the University of Maryland, Overseas Campus. That year she also started a twenty-one-year career with General Motors Service Parts Operations. Again, while working full time she completed a Master of Arts degree in 1986 in Human Resources Management with an emphasis in organizational development.
She attended Vaughn Middle School, Bishop Manogue Catholic High School and graduated from Wooster High School. Her parents were not afforded the opportunity for higher education but instilled in their daughter a great desire to pursue an education. Her intent to finish in four years was quickly interrupted when she met her future husband, native Nevadan George Del Carlo of Virginia City, at her first UNR home football game in her freshman year. She changed from a bachelor's degree program to an associate's program, married in 1972, and followed George (UNR ROTC) for the next 22 years during his military career. She continued to pursue her education while working full time and finished her bachelor's degree in 1981.
Regent Del Carlo has been actively involved in volunteering in politics and various non-profit organizations while working from her home office. She is currently chairing the NSHE Chancellor Search.
She brings a love of people, politics, Nevada, and the desire to serve students to the Board of Regents.
ABOUT NSHE
The Nevada System of Higher Education, comprised of two doctoral-granting universities, a state college, four comprehensive community colleges and one environmental research institute, serves the educational and job training needs of Nevada. NSHE provides educational opportunities to more than 100,000 students and is governed by the Board of Regents.