Dr. Patrick R. Carter
Clark County, District 6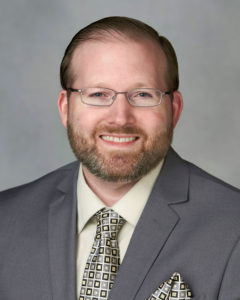 Regent Patrick R. Carter is proud to serve on the Board of Regents of the Nevada System of Higher Education. He currently serves as vice chair of the Academic, Research and Student Affairs Committee. He is also a member of the Athletics Committee, Audit and Compliance Committee and Cultural Diversity and Title IX Compliance Committee.
Carter has taught as an adjunct faculty member online, as well as on campus for several different institutions. He has worked for approximately four years as a full-time faculty member and for five years as a program chair at a private college.
He earned his doctorate in business administration and has completed doctoral studies in higher and postsecondary education. He has also written a book on aiding incoming college students on how to be successful in higher education.
Why do you want to serve on the Board of Regents?
Carter: I was looking for a way to give back to my community and I felt like serving on a board would be a good way to do this. So, when the seat in District 6 was up for re-election last year, I decided to run. I serve not only to give back, but also to work toward positive changes in our higher education system.
What strengths do you feel you bring to the Board of Regents?
Carter: I think my higher education background both as an instructor and administrator is a helpful addition to the composition of the Board. I also have my doctorate in business and additional post-doctorate work in higher education administration. I'm analytical and can dig through budgets and handle fiduciary responsibilities. At the same time, I am a creative thinker that can look for out-of-the-box solutions.
What have been some of your proudest accomplishments while serving on the Board?
Carter: My first year on the Board was really about getting an understanding of the System and the institutions. I have visited every institution at least twice this first year. This has given me a good understanding of the culture, differences, and some areas of excellence at each institution. I think the best thing we have done this year as a Board, is to hire our current Chancellor. He is going to help us forge ahead with a clear direction that in the past has been lacking.
What do you see as the opportunities and challenges ahead for NSHE?
Carter: There are opportunities to increase access to higher education and use the System to build more degrees in which a larger portion of the bachelor degree requirements can be completed through the community college. There are also opportunities to expand the online offerings of all the institutions. The biggest challenge is funding and balancing the need for funds among the institutions, as well as allocating funds to where there is the greatest impact for Nevada.
As a regent, in what ways are you working to meet the unique needs of the constituents in your district?
Carter: My area, District 6, covers both urban and rural areas, from Henderson down to Laughlin. I would like to increase access by bringing more higher education options closer to the constituents throughout my district.