Kevin J. Page
Clark County, District 3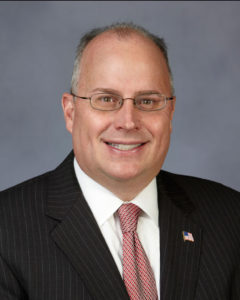 Regent Kevin Page was appointed to the Board of Regents by Gov. Jim Gibbons in January 2009 and was retained in the 2010 and 2014 elections as the representative for District 3. He currently serves as chairman of the Board of Regents.
Page previously served two terms as chairman of the Board (2013-2014 and 2014-2015) and two terms as vice chairman of the Board (2011-2012 and 2012-2013).
Born and raised in Queens, New York where he graduated from Monsignor McClancy Memorial High School in 1982, Page went on to receive a Bachelor of Science in Business Administration in Finance with a concentration in investments from the University of Nevada, Las Vegas in 1986. He also earned his Master of Business Administration from UNLV in 1987.
Page was awarded the Outstanding Alumni for the College of Business and Economics in 2000. In 2006, he became the youngest and only the second UNLV Alumnus to be awarded both the UNLV Alumnus of the Year and Distinguished Nevadan Award, which is the most prestigious award conferred by the Board of Regents.
Why do you want to serve on the Board of Regents?
Page: I've been passionate about higher education my entire adult life. I earned two degrees from the University of Nevada, Las Vegas. I spent 18 years on the UNLV alumni board — three as president – and have seen the positive impact education has on our community. Serving on the Board of Regents was the next logical step for me to stay involved and, hopefully, to make a difference.
What strengths do you feel you bring to the Board of Regents?
Page: I believe my financial background brings a valuable skillset to the Board since we deal with so many budget and investment issues. I am also an extremely hard worker who loves to read. That means I make the time to read everything that comes across my desk and am prepared for the wide variety of topics we must address at our meetings. Hopefully, that skillset can make a meaningful contribution to our efforts in making the Nevada System of Higher Education more efficient and effective.
What have been some of your proudest accomplishments while serving on the Board?
Page: As a Board, we have had several accomplishments I was proud to be a part of. I would say some of the top accomplishments would be the start of the long-awaited UNLV School of Medicine, promoting the creation of the Outsourced Chief Investment Officer position, and the consolidation of the campus police forces in northern Nevada.
I've also been a vocal advocate for updating our technology and providing regents with more digital technologies such as iPads and meeting agenda software such as BoardPaq.
I'm also proud to have played a part in bringing Thom Reilly on board as our new chancellor.
On a personal note, I'm honored to have had so many leadership opportunities on the Board of Regents. I was elected by my peers three times to serve as the Board chairman and twice as the vice chairman. I've also served as chair on numerous committees, such as the Business, Finance and Facilities Committee, the ad hoc Chancellor Search Committee, and I was the co-chair of the Athletics Committee.
What do you see as the opportunities and challenges ahead for NSHE?
Page: The opportunities we have in front of us are amazing. The police consolidation is a great example of pairing cost savings with improving services. While we should always be looking for ways to save money and be more efficient with how we spend it, we should look at every decision as an investment. We shouldn't cut costs for the sake of cutting costs. Everything must be done with an eye toward efficiency and improving the services we provide.
While we have made great strides forward in recent years, we still have room for improvement in our graduation rates and transfers from community colleges to our state college and universities. Having one governing body gives us the flexibility and unity to tackle these important issues with our eight institutions.
As a regent, in what ways are you working to meet the unique needs of the constituents in your district?
Page: While I do my best to be responsive to the people who contact me from my district, I view my job as working for every Nevadan. Even though regents are elected at the local level, we serve at the state level. That's an ethos I want to embody during my time on the Board.