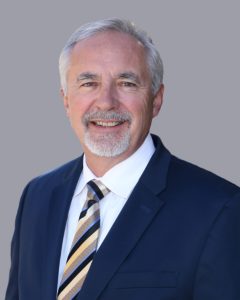 LAS VEGAS, Nev. — The Board of Regents today approved the appointment of P. Mark Ghan as the acting president of Western Nevada College (WNC), effective October 19, 2017.
"Mark has my utmost confidence in leading Western Nevada College while we conduct a national search for the institution's next president," said Dr. Thom Reilly, chancellor of the Nevada System of Higher Education (NSHE). "WNC has made incredible strides forward under the leadership of former president Chet Burton and will continue to do so with Mark during this transition period."
Burton stepped down as president in August to serve as the chief financial officer for the Nevada System of Higher Education and Ghan was selected to serve as the institution's officer in charge.
Chancellor Reilly and Board of Regents Chairman Kevin J. Page hosted a public forum at WNC on September 18 to solicit faculty, student, and community input on the next steps in the college's leadership search process.
"It is my privilege to serve as acting president while Western Nevada College conducts a national search for a new president to lead the college," said Ghan. "This is an exciting time for the college as it contributes to meeting the growing workforce demands of companies like Tesla, Panasonic, Switch, Click Bond, GE, and others, as well as providing pathways to careers in business, government, and education. It is my goal to ensure the college does not lose momentum in advancing the programs and projects that make WNC a special place."
The next step in the search process will be the appointment of an ad hoc presidential search committee by Regent Page.
Prior to his appointment as WNC's officer in charge in August, Ghan served as the college's vice president for administrative services and general counsel since 2013.
He was the college's vice president for human resources and general counsel from 2006 to 2013 and general counsel for WNC, Great Basin College, Truckee Meadows Community College and the Desert Research Institute from 2005-2006.
Ghan received a B.A. in English from Western New Mexico University and his Juris Doctor from the University of Santa Clara School of Law.
About Western Nevada College
Western Nevada College is a comprehensive community college that serves more than 5,000 students each year within a five-county area, spanning more than 10,000 square miles. Since 1971, Western Nevada College has helped students embark on the road to success by preparing them for a variety of careers through associate and bachelor degrees, industry certifications and workforce training. WNC offers exemplary academics, small classes, affordability and student satisfaction. Many Western grads become leaders in their communities and excel in their professions. With campuses in Carson City, Minden and Fallon, and multiple online degrees and classes, Western is able to meet many students' needs, whether they are residing in remote parts of Nevada or trying to fit in their education while balancing their commitments to work and family.
About the Nevada System of Higher Education
The Nevada System of Higher Education — comprised of two doctoral-granting universities, a state college, four comprehensive community colleges and one environmental research institute — serves the educational and job training needs of Nevada. NSHE provides educational opportunities to more than 107,600 students and is governed by the Nevada Board of Regents.