Regents also name Dr. Jane Nichols as acting chancellor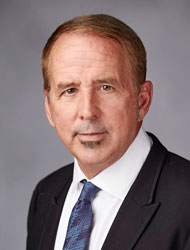 LAS VEGAS, Nev. — The Nevada Board of Regents today unanimously approved the selection of Dr. Thom Reilly as the chancellor of the Nevada System of Higher Education (NSHE), effective Aug. 7.
Reilly is currently the director of the Morrison Institute for Public Policy at Arizona State University (ASU) where he also serves as a professor in the School of Public Affairs and is a Fellow of the National Academy of Public Administration.
"Dr. Reilly is an innovator with a record of leadership and excellence," said Rick Trachok, Board of Regents chairman. "I am delighted to welcome him back to Nevada and I am confident he will be a tremendous asset to NSHE and the communities we serve."
"I am honored and privileged to have this opportunity to serve as NSHE's next chancellor," said Reilly. "In returning to Nevada, I am coming home to a community that embraces an entrepreneurial ethos. I am looking forward to using my experience to help the Board of Regents and our institutions evolve to the next level of educational and workforce excellence."
Reilly previously served as the County Manager for Clark County, Nevada where he provided leadership for both regional and municipal-type services. In this position, he was responsible for the fiscal management of the County's annual $5.8 billion budget and administrative oversight of close to 12,000 employees.
He also has extensive experience in the private sector serving as managing principal of The Reilly Group, a management consulting firm and is former vice president of social responsibility at Caesars Entertainment, Inc.
Reilly has held senior administrative positions with the State of Nevada, overseeing income maintenance programs and the statewide child welfare system. He also was a former director and professor for the School of Social Work at San Diego State University.
He has authored numerous published works on public pay and benefits, governance, HIV, and child welfare. He and his work have appeared on NPR's "Here and Now," CNN Money, Wall Street Journal, Fox Business News, and in The New York Times, The Guardian, Law 360, Governing, Businessweek and The Associated Press. He is co-editor of the Ethics, Corruption and Governance Series for Rowman & Littlefield Lexington Books.
Reilly received his master's and doctorate of public administration from the University of Southern California. He earned his master of social work at ASU and a bachelor in social work from the University of Memphis.
The chancellor selection process was undertaken by the Board of Regents ad hoc Chancellor Search Committee, chaired by Regent Kevin J. Page.
"The search committee wanted our next chancellor to be an experienced academic and community leader. We believe Dr. Reilly exemplifies those traits and will bring a deep appreciation for higher education and the multifaceted impact it has on the communities we serve," said Page.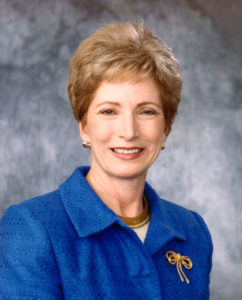 Regents today also appointed former chancellor (2000-2004) Dr. Jane Nichols to serve as acting chancellor from July 1 through August 6.
Nichols will succeed John V. White, who was named acting chancellor in June while the Board of Regents conducted a national search for NSHE's next chancellor. White will return to the faculty of the William S. Boyd School of Law.
"Dr. Nichols has been a tremendous asset to NSHE for more than 30 years in her various leadership roles in Nevada's public higher education system. She is the perfect individual to take the reins during this transition period," said Trachock.
Nichols first came to Nevada as an associate professor in 1984 at the University of Nevada, Reno's Department of Social and Health Resources.  She later served as assistant dean of the College of Education and coordinator of core curriculum and university assessment. In 1997, she was appointed NSHE's vice chancellor for academic and student affairs until she was named chancellor in 2000. She stepped down in 2004 to return to the faculty at UNR.
In 2005, she was brought back to serve as vice chancellor for academic and student affairs and recently served as the acting vice president of academic affairs at Truckee Meadows Community College through 2015.
About the Nevada System of Higher Education
The Nevada System of Higher Education — comprised of two doctoral-granting universities, a state college, four comprehensive community colleges and one environmental research institute — serves the educational and job training needs of Nevada. NSHE provides educational opportunities to more than 107,600 students and is governed by the Nevada Board of Regents.