Trevor Hayes
Clark County, District 2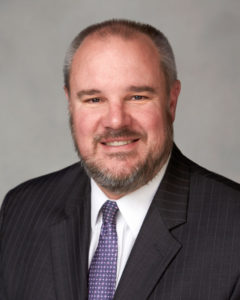 Trevor Hayes moved to Southern Nevada in 1992 to cheer on his beloved Runnin' Rebels as a student at UNLV. In subsequent years, he fell in love with the state of Nevada. His passion for higher education and his adopted state prompted to him to seek and win election to the Board of Regents in 2014. He currently serves as vice chair of the Cultural Diversity and Title IX Compliance Committee. He is also a member of the Athletics Committee, Business, Finance and Facilities Committee, Investment Committee and the ad hoc Chancellor Search Committee. In January 2017, Regent Hayes was appointed to the Board of Directors of the UNLV Campus Improvement Authority.
Why do you want to serve on the Board of Regents?
Hayes: I was a first-generation college student and education allowed me to dramatically alter the trajectory of my life. I want to help others use college to change their lives. I also believe that higher education can help solve many of the problems facing our state, in areas such as economic development and health, as well as to improve the general quality of life of Nevadans.
What strengths do you feel you bring to the Board of Regents?
Hayes: I am passionate about helping our students and our state. I am a product of the NSHE system, as is my wife. I am also the only regent who started at a community college, so I bring a different perspective to some issues.
What have been some of your proudest accomplishments while serving on the Board?
Hayes: I haven't been on the Board long enough to say I have accomplished anything.
What do you see as the opportunities and challenges ahead for NSHE?
Hayes: The opportunities are that most of our institutions are young and not tied to a historical way of doing things. So we should be able to adapt and change quickly. The challenges include limited resources, a state population that has not historically needed higher education for career success, and a K-12 system that is not producing enough college-ready freshmen. NSHE's institutions need to play a large role in overcoming all of those challenges, but especially the last one. One of the best ways to improve K-12 is for our institutions to train high quality teachers and administrators, and to work with the school districts to develop innovative solutions to meet our state's needs.
As a regent, in what ways are you working to meet the unique needs of the constituents in your district?
Hayes: I believe a regent should make decisions that are best for the state as a whole, and not to serve any one constituency at the expense of another. But there are some characteristics of my district that lead me to focus more heavily on certain areas. My district is not as wealthy as some others, and has one of the lowest rates of college attendance of any regent district. So ensuring the College of Southern Nevada and Nevada State College not only enroll first-generation college students, but help them succeed, is one of my top priorities.