Regent Profile: Dr. Andrea Anderson
Dr. Andrea Anderson
Clark County, District 12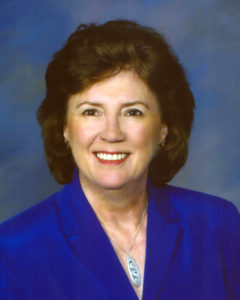 Dr. Andrea Anderson was appointed by Governor Jim Gibbons to serve on the Board of Regents on August 31, 2009, and was elected by Nevada voters in 2010. She was retained in the 2012 election as the representative for District 12. She currently serves as chair of the Community College Committee and vice chair of the Audit Committee. She is also a member of the Academic, Research and Student Affairs Committee and the Cultural Diversity and Title IX Compliance Committee.
Why do you want to serve on the Board of Regents?
Anderson: In today's working world it is almost essential for an individual to have some post-secondary education to be successful and to be able to adjust to the careers of the future.  Our role as regent is to insure that every Nevadan has the opportunity to secure that education and, through my service on the Board, I can work toward providing that opportunity.
What strengths do you feel you bring to the Board of Regents?
Anderson: My strengths come from nearly 25 years of experience in higher education administration, especially with regard to the important role of the community college in the overall education plan for Nevada. Over the years, I have worked with students, faculty, administration, parents, and the business community and I feel that my understanding from many different perspectives gives me a unique insight into the many aspects of the world of higher education.
What have been some of your proudest accomplishments while serving on the Board?
Anderson: I am particularly proud of the growth of Nevada State College while I have been on the Board.  It fulfills a critical niche in the higher education system of Nevada. I am also proud of the emphasis we are now putting on community colleges and their unique role in economic development and the diversification of the Nevada economy.
Another important accomplishment is the emphasis on student success and completion rates.  Previously, we funded an institution on enrollment, regardless of whether or not that student accomplished their goals.  Now, we fund institutions based on student success and completion of their goals.
What do you see as the opportunities and challenges ahead for NSHE?
Anderson:  Opportunities include reaching our goal of tier one research institution status for our two universities.  Another is to increase access to higher education for all Nevadans. Access is the key to giving all students an equal opportunity to succeed in their life goals.
As a regent, in what ways are you working to meet the unique needs of the constituents in your district?
Anderson: We are a state-wide system and I feel my constituents are all Nevadans. I feel the Board of Regents is doing much better at being a cohesive system and listening to the needs of all of our students throughout the state, as we should. On a more local level, Nevada State College is in my district and I believe that local constituents wanted, and received, whole-hearted support for that institution.